Resource Library
Here's a quick video giving an overview of the fiberglass panels & stair nosing's. This will cover what they are used for, the selection we have and more.
Check out or installation guides for your help:
Stair Nosing Installation Guide
Floor Panel Installation Guide
Check out our range here: Floor Panels, Stair Nosing - Yellow, Stair Nosing - Black, Stair Nosing - Black/Yellow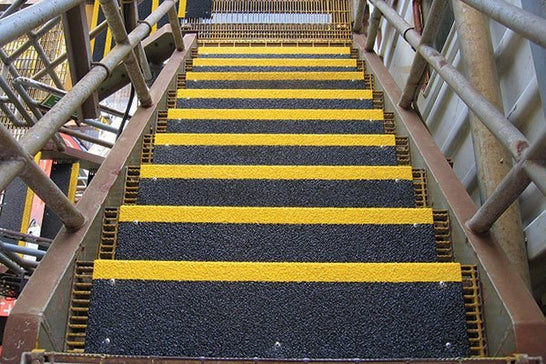 Here is a quick how-to-video-guide of how to easily install our DIY Artificial & Landscape Grass for beginners. Check out the video below, or download PDF installation guide here.
Benefits of artificial grass:
Low maintenance: Artificial grass does not require watering, mowing, or fertilizing, which can save time and money.
Durability: Artificial grass is made of synthetic fibers that can withstand heavy use and extreme weather conditions.
Consistency: Artificial grass provides a consistent and even surface, which is especially useful for backyards, sports areas and playgrounds.
Environmental benefits: Artificial grass can reduce water usage and eliminate the need for chemical fertilizers and pesticides.
Aesthetics: Artificial grass can provide a lush and green landscape all year round, regardless of weather conditions.
Accessibility: Artificial grass can be used on surfaces that are difficult to maintain with natural grass, such as steep inclines or areas with poor drainage.
Pet-friendly: Artificial grass is easy to clean and maintain, making it a great option for pet owners.
Check out our range of Artificial Grass & Landscape Grass thicknesses that we stock: Artificial Grass 7mm, Landscape Grasses 20mm & 35mm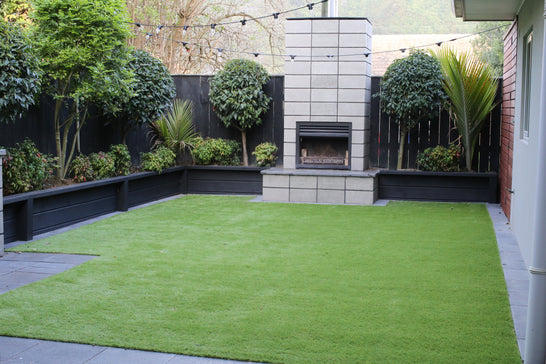 We have compiled a list of common questions we get asked about our Chairmats. We hope this helps you in your choice for choosing the right one for you.  View the full range of our Chairmats here for more information!
Q: Are Chairmats recyclable?
A: Yes, Chairmats are fully recyclable and at the end of their life of use they can be put in your recycling bin.
Q: What are AMS Distributors Chairmats made of?
A: Chairmats are made of a durable clear PVC / Polyvinyl Chloride.
Q: Can you cut a Chairmat?
A: Yes, it is difficult but can be done with a circular saw, but we recommend taping the top surface while cutting to prevent chipping and cracking.
Q: Why do some chair mats crack?
A: A PVC chair mat can become brittle over time especially if left in the sun causing cracking. However the most common reason is when they are used on thick carpet or carpet with underlay, as having the Chairmats on this soft surface causes the mat to sag and crack when weight is put on it. Our Chairmats are not designed for these situations, therefore there is No Warranty if you are using our Chairmats on thick carpet or carpet with underlay. We recommend using our Chairmats in commercial carpeted areas with no underlay, like carpet tiles and offices. 
One option that could help prevent cracking is our Heavy Duty Chairmat, it would work better in situation with thick carpet or carpet with underlay - but again there is no warranty against them cracking as they are not designed for those situations. Or other people opt for rubber chair mats or polycarbonate chair mats, however they still have a chance of cracking.
Q: Are there Chairmats for hard floors?
A: Yes, AMS Distributors sell a Hard Floor option with no 'anchors' on the backing, to help protect your wooden floor and other hard flooring surfaces from your office chair.
Q: What are the benefits of Chairmats:
Protects your carpet from your office chair
Sits flat, won't curl up
Leather grain texture to keep up appearances, resists wear and tear
Backing has 'anchors' to stop movement and keep the mat firmly in place on the carpet
Available in three sizes to suite most areas (keyhole shaped and rectangle shaped)
Q: Where can I buy Chairmats?
A: We distribute to various locations all around NZ; contact us 0800 806 287 & we will find the most convenient store for you! Check out our full range of Chairmats here for more information!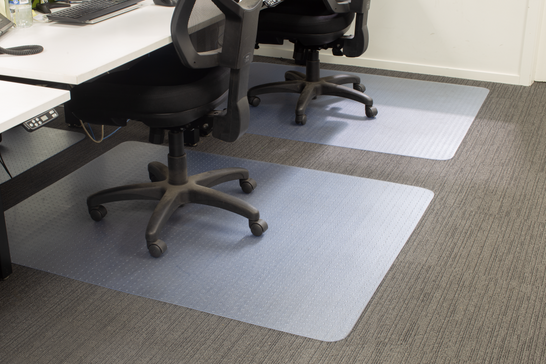 What are anti-fatigue mats?
They are fatigue reducing mats, which are designed to provide a cushioning effect when standing for a long period of time and elevate you from a hard floor surface. Anti-fatigue mats are often made from soft polyurethane, PVC sponge and rubber materials.
Do they work? The science behind anti-fatigue mats:
Answer firstly is yes! You don't want a mat too soft that just moulds down and feels like you are standing on hard floor again. You want it cushioned enough, yet firm enough to hold the weight of the person standing on it. A study has shown that standing on just a 10mm anti-fatigue mat can reduce pain and discomfort in the legs, back and feet by up to 50 percent. A similar study revealed considerable differences in thermal comfort as well as leg and back discomfort between those who stood on concrete for 90 minutes and those who did the same on anti-fatigue mats.
5 top benefits of anti-fatigue matting:
Comfort! Anti-fatigue mats are medically proven to provide unsurpassed comfort, safety, relief and support while you stand. Not only do the mats elevate you off the cold, hard floor, but they provide a soft cushioning effect.
Reduces stress on joints. Standing for prolonged times on a hard floor can cause great pressure and discomfort on your ankle, knee, leg, hip joints and long-term effects! This problem can be solved by using anti-fatigue mats, as the foam layer softens the impact on the joints, decreasing the pain and discomfort. A lot of physiotherapists recommend these mats to their clients especially those with arthritis and we have heard a lot of positive feedback from them.
Improves work productivity. Using an anti-fatigue mat for standing work areas significantly and favourably affects your work productivity. It provides a comfortable, pain-free, and ergonomic space to work, helping to boost your mood and focus on your work.
Health benefits! There are so many health benefits from using anti-fatigue matting. When you are standing it stimulates blood circulation to flow around the body more freely, compared to when you are sitting. Prevents muscles from aching, strengthens your leg muscles. After using anti-fatigue matting you may also notice ankle swelling goes down. It can help reduce body tiredness as by standing up & not sitting down all day, it gives you energy. Did you know standing burns more calories than if you were sitting!
Improves posture. Anti-fatigue mats are specially designed and ergonomically engineered to help with your posture. It has been proven that standing on a softer surface provided by an anti-fatigue mat can be especially effective in reducing back pain.
Can anti-fatigue mats save your business money?
Yes, in many ways! Not only with the positive benefits with the health of your employees, but also the fact that the anti-fatigue mats more than pay for themselves with increased productivity & improved employee morale. Poor ergonomics can cause absenteeism to soar, anti-fatigue mats provide relief to the standing worker so you can send your employees home every day in good shape.
Where do anti-fatigue mats get used?
Anti-fatigue mats are used every day in a lot of different industries and workplaces or even just at home in your kitchen. For example, retail workers behind a counter, factory & warehouse workers standing for prolonged times at a packing bench or machinery all day, hair dressers, waiters to name a few! Anti-fatigue mats are also becoming very popular now with stand-up desks, as many people are finding that they sit down for too long in a day!
We stock a range of anti-fatigue mats, browse our range here. Or view the ideal anti-fatigue mat for specific uses below: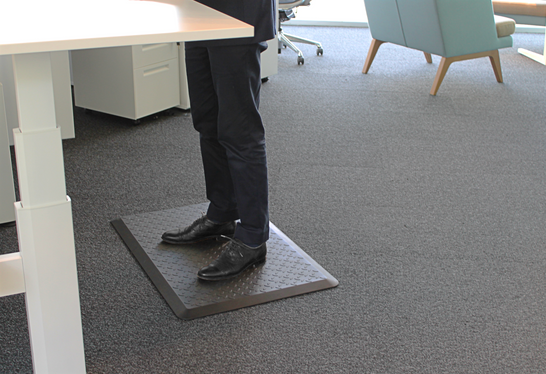 Great to see some of our AMS employees volunteering and supporting the Rapid Relief Team (RRT) and all the outstanding work they do! This event was the 2022 Wellington Tough Guy and Gal Challenge at Camp Wainui, Wellington - raising over $2000 for Ronald McDonald House Charities New Zealand.  ❤️ 💙 💛
Check out more of the great work RRT does, serving people with care & compassion in their time of need: Rapid Relief Team (RRT) New Zealand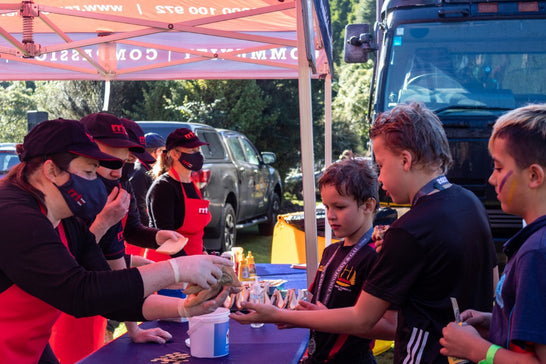 What is Plasticiser Migration?
It's when the plasticiser chemicals, within rubber, migrate out and can eventually leave a yellowish stain on vinyl or decorative/aesthetic flooring underneath.
Why does plasticiser migration happen?
Natural rubber mats are made from the resin from rubber trees; however, plasticiser is added into the formula to create more flexibility for the mat.
Heat causes the plasticisers in the rubber to heat up and leach out. Plasticizer migration usually happens over time – from the rubber mat sitting in the same spot for a very long period. However heat can speed up the migration process so if its sitting in the sun, its likely to occur faster.
There are no plasticisers in our nitrile rubber mats, PVC backed mats or foam backed product.
How to prevent your floors from being ruined by plasticiser migration:
Avoid placing rubber backed mats on vinyl or decorative/aesthetic flooring, such as tiles & wooden floors. We recommend placing rubber mats outside (as although the sun does affect it, usually the flooring type like concrete or wooden decking is not affected by plasticiser migration).
Alternatively, use a small piece of rug underlay underneath the mat will mean your floors stay like new.
AMS Distributors have made it easy for you - most of our rubber mats range is for outdoor use or commercial use – so less chance of it mattering what surface it is going onto. Look on the back of the label attached to the mat, it will have a warning if there is a risk of plasticiser migration. Some indoor absorbent entrance mats do have a rubber backing, so we would recommend using that in an outdoor covered area, like a porch or patio entrance.
Can I clean my plasticiser migration stained floor?
Maybe. Its not always possible but worth a try! Here is a method to try to clean the stain out of the floor.
Make a baking soda paste of double parts baking soda to water (e.g 4 tablespoons of baking soda to 2 tablespoons of water). Apply this mix to the area affected. Scrub this area with a dishbrush or toothbrush. Leave it for 10 minutes then wipe the area clean.
If this is unsuccessful, its likely the stain is permanent and either you will need to replace the flooring, or use a floor covering overtop of the stained area.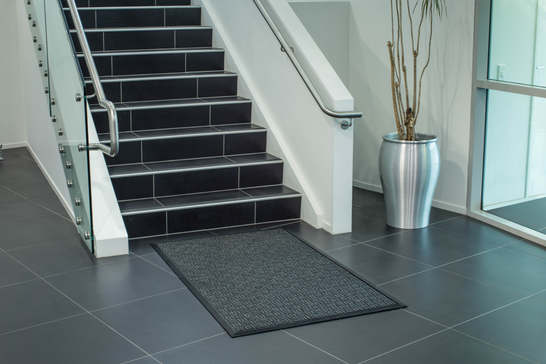 Rubber ute matting is excellent for protecting your ute trays, reducing the wear, keeping the ute tray looking nice and in a good condition. The non-slip textured surface of ute mats prevents your tools & equipment from sliding around. They are hard wearing and a durable rubber, absorbs shock and great for noise reduction. They can be easily cleaned - simply pull out and hose it down.
Another benefit is that rubber ute mats are easy to install, a great DIY project! Check out our video of how to easily cut your rubber ute matting to the shape of any ute and install it or download an easy PDF installation guide here. 
We stock a range of quality rubber ute matting to suit your requirements: Decktred Matting, Armour Grip Matting, Rubber Ute Mat and of course the ultimate Bison Ute Mat.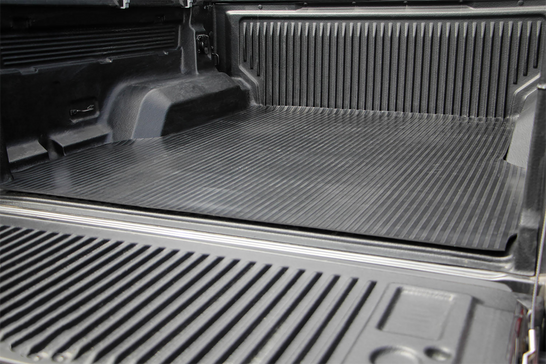 We offer free samples delivered to your door nationwide in New Zealand. This gives you the opportunity to check out the different options of floor safety products we have available so you can compare and test them in person. We understand it's an important decision to get right with the cost, since they will last you for a number of years, and especially when ordering a custom cut mat!
How to request free samples online:
Click on the 'sample' icon 
when scrolling through the product categories, or click 'Request Sample' button if you are on a particular product page. This will add it to your Sample Cart. 
Continue shopping to add more, or click Complete Sample Order!
Enter your address, and the payment total will be $0.00. Click 'Complete Order' and we will send out the sample as soon as possible to your door!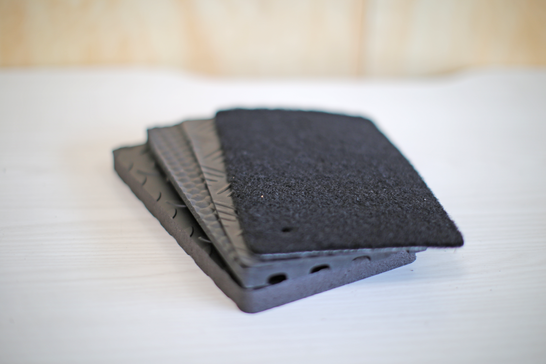 Check out an interesting shore chart above which shows a comparison of a rubber mat to other rubber hardness's.
What is Shore Hardness?
Shore hardness is a measure of the resistance a material has to indentation. So how hard are rubber mats? Most of our rubber mats range from Shore A 50-60, meaning they are heavy duty and durable, yet still flexible to lay flat on the ground.
View a couple of our rubber products from the range at the different shore hardness levels:
50 Shore A: Safety Cushion Mat, Workdeck Mat, Interlink Mats, O Ring Mat
60 Shore A: Neoprene Rubber, EPDM Rubber, Nitrile Rubber, Insertion Rubber
70 Shore A: Rubber Flooring Rolls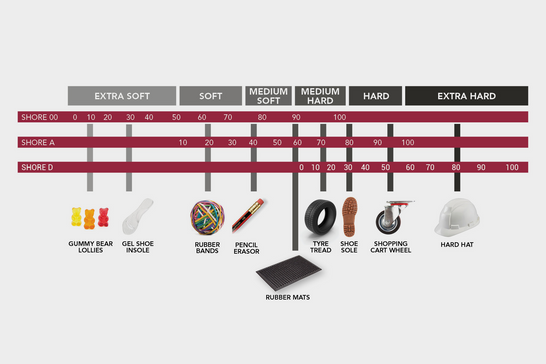 Want to get your Personalised Century Pile Mat with your own company logo? Here are some more great benefits that custom logo mats have to offer your business.
First impression for your customers. Make your entrance visually attractive with a warm, friendly, professional welcome.
Creates a unique entrance. A personalised mat will make your entrance look distinctive, help reinforce your corporate identity and separates you from your competition!
Easy advertising. Branded mats can be an excellent marketing tool; eye catching, makes a lasting impression, a very effective way to promote your company or even brands. 
Protects your floors. A mat can save your floors from being damaged by dirt, grit and dust; essentially saving you money!
Absorbs moisture. Century Pile mats are very absorbent (30% more absorbent than other mats) and will prevent moisture from being tracked inside your building.
Safety. Entrance mats are an excellent and effortless way to combat potential safety hazards and ultimately prevent slips and falls!
Low maintenance and care. The Century Pile mats can be vacuumed, or just shake it outside, or a huge benefit is they are fully machine washable.
Longevity. The Century Pile mat range is easily able to withstand high foot traffic areas, making it ideal for commercial entrances. They are a great investment, a very high-quality product with years of trouble-free service ahead.
We're also able to personalise the rubber Kleen Scrape Mat as well, which is ideal for outdoor entrances, food processing areas, kitchens, factories with oils and greases. 

THE 4 EASY STEPS TO GET YOUR PERSONALISED MAT:
Obtain a high-res logo/design and send size requirements through to sales@amsdistributors.co.nz 
A quote & colour proof will be sent back through to you at no cost.
Colour proof to be checked and signed prior to manufacture.
Manufacture begins, 10 - 15 days lead time.
Here are some tips and extra things to consider when  your logo mat:
Choose contrasting background and logo colours.
Less is more! Don't overload your entrance mat with too much info.
We can colour match your logo to the closest colour in our standard 42 colour print range, or we can do a specific PMS colour match at an extra cost.
Where is your mat going? We have different backings for hard floor or carpeted floors to prevent the mat sliding around. Cleated back for carpeted areas and smooth backed for hard floors.
What size are you requiring? We can do custom sizes up with 1.5m wide x 4m long (cleated back) or 1.8m wide x 4m long (with smooth back).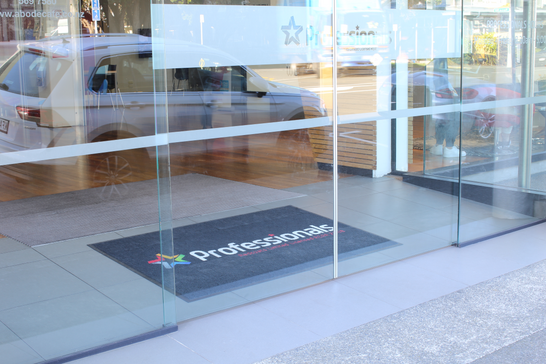 Did you know, having garage carpet installed in your internal garage is one of the top ways to add value to your home - according to so many sources, just google it!
Garage Carpet is an ever-increasing popular product in New Zealand and now with lockdowns and having to isolate at home - the extra office / playroom / exercise space is becoming a must. 
We stock two popular options for garage carpet; Alfresco Outdoor Carpet (premium quality) and Jaz Garage Carpet (standard). They are both very easy to install and are excellent choices for lining your garage floor.
Check out our step by step instructions in the video below of how to install the carpet:
Benefits of Garage Carpet:
Adds value to your home! Garage carpet makes your garage look visually appealing.
Safety: Carpet can provide a non-slip surface, making the garage safer for walking and working.
Aesthetics: Carpet can improve the appearance of a garage, making it look more finished and polished.
Durable: Resistant to wear and tear, can hand vehicle traffic.
Waterproof: Made from polypropylene so it won't rot or smell with water getting on it. Wet cars can drive on it.
Can be glued down: The resin backing means that the carpet can be glued down to the surface – we recommend UZIN UZ 57 glue. Gluing the carpet down prevents any tripping hazards if the edges curl up and ensures the carpet doesn't move around and stays in its place.
Insulation: Carpet can help insulate the garage, making it more comfortable to use as a workspace or living space.
Sound Dampening: Carpet can help absorb sound, making the garage quieter and more pleasant to be in. 
Protection: Carpet can protect the concrete floor of the garage from scratches, spills, and other damage.
Comfort: Carpet can make the garage more comfortable to walk and work on, reducing fatigue and pain on the feet and legs.
Easy to clean: Carpet can be easily cleaned with a vacuum cleaner or carpet cleaner.
Creates a perfect space! Do you want to park your car inside, store your boat? Maybe you want a pleasant place to exercise, create a home gym in your garage. Play area for you kids and pets. Man cave! The options are endless but one thing for sure is the garage carpet with improve your garage!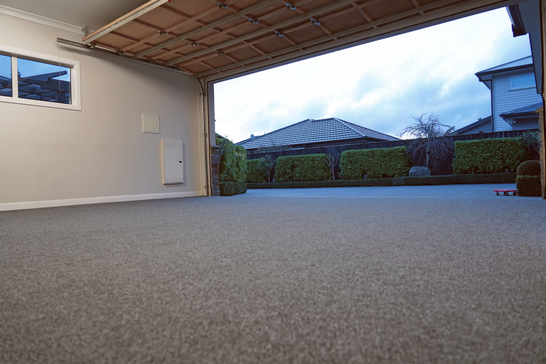 We've had awesome feedback about our mobile showroom, so we've given it a freshen up and started touring the country.
Showcasing our complete range - Safety Flooring Mats, Industrial Rubber & Needlepunch Carpets. 
We're keen to come in and show you through, give you some training, or call on your customers with you so they can see the range for themselves!
We carry a full set of samples with us so we can leave you with catalogues, samples and anything else you require.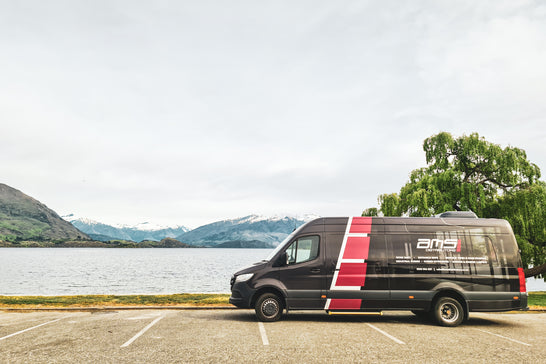 NEED SOME HELP FINDING THE RIGHT
PRODUCT?
Contact our team